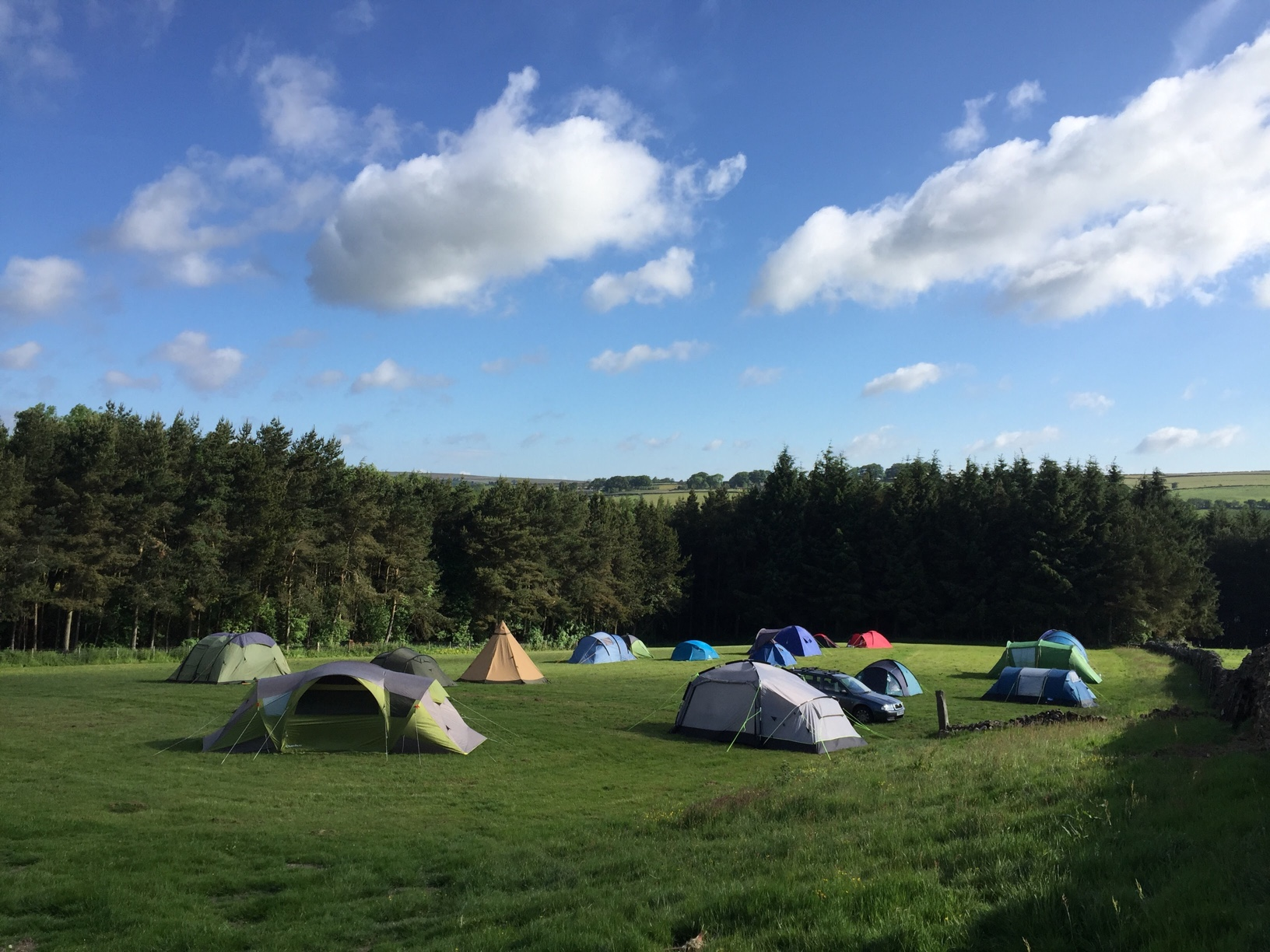 Camping available to book below via the book now button. Suitable for tents and small camper vans only (short wheel base VW sized).
Freedom camping club affiliated, non-members welcomed. Why not join for FREE? https://www.freedomcampingclub.org
Sorry we have not facilities for Motorhomes or Caravans this year. We are working on it for 2022.
No Change To Our Protocol Despite The New Government Guidance. Our Priority Is Being Able To Remain Open Safely And Ensure Our Customers Feel Safe.
* There will be 1 male and 1 female shower available, to be used by one family or person at a time.
* Masks must be worn in the toilet facilities.
* The shared fridges will reopen from 19th July, but will be closed if people are not respectful
* No bookings of more than 2 families/bubbles. The only groups we will allow are small D of E groups who will be given a seperate area.
* No day guests - it's not something we want to encourage long term, there are plenty of places to meet without having to come onsite.
* No campers on the glamping field
* Your will be contacted to cancel and receive a refund should your area become subject to local restrictions. Same if our area becomes subject to local restrictions that prevent holidays.
* If you can show you have been contacted to isolate or tested positive, you can move your booking within the 2021 season subject to availability subject to a £10 fee (if no dates are available you will be entitled to a refund less a £10 admin fee). We need a minimum of 72 hours notice to enable us to do this (we have tried to be as compassionate as possible, but feel this is a fair policy). (Camping ONLY, not other accomodation).
* Moving forward we ask you to have your own holiday insurance and our usual terms and conditions still apply to cancellations and moving your booking (there is a fee please see terms and conditions).
* You must not travel to us if you or any member of your party has coronavirus symtoms. If you develop coronavirus symptoms whilst onsite you must inform us via the contact point and return home.
We will not be accepting groups of more than a few families all summer, to enable us to keep all our guests safe and to reduce household mixing.
Our priority is to comply with the most current government guidance and to protect the health and well-being of all our customers.
Bookings for tents and small camper vans (short wheelbase) now available from 21st June to book online
We are on limited pitches throughout this season.
** Check in is 2pm to 8pm (No late arrivals accepted) **
** Check out is 11am for camping **
You must prebook all pitches via the website. All people must also be pre-booked. We reserve the right to refuse entry to anybody not complying with our ts and cs and coronavirus policy.
We are on limited pitches throughout this season.
This message will be updated to reflect new announcements.
***Please book 1 pitch per unit****
Full details
TENTS ONLY (we will accept small VW campers or similar and trailer tents)
Basic grass tent pitches (No EHU)
Groups of 6 people only per pitch. Single families from one household of more than 6 are accepted.
2 night minimum booking/ 3 nights bank holidays
Check in from 2pm-8pm
3 acre site set over 2 fields
Quiet, rural location with stunning views
Plenty of wildlife (and farm animals)
Toilet block - separate male and female
Shower Block with hair dryers all free of charge - separate male and female
Information Hut
Shared fridge and freezer (UNAVAILABLE DUE TO COVID 19)
Washing up area
Small children's play area
Direct access to local walks
Dogs allowed for small charge / must be kept on a lead (we charge for dogs as we feel it makes people more responsible)
Barbecues allowed (must be raised off the ground)
Family, Duke of Edinburgh and motorbike friendly
No fires allowed. Only firepits and wood bought from us can be used.
Prices
From £9.50 per adult per night
From £4.00 per child per night aged 5-15yrs
Children under 4yrs and under are free
1st Car FREE (Please note in adverse weather you may be asked to park on hard standing out of the field)
Extra cars (more than 1) are £3.00 each per night
Dogs are £1.00 each per night (max 3 dogs per party and must be kept on a lead at all times in the camping field and around the farm.)
Gazebos 3m/3m Max (anything larger must be paid for extra) £5 per night
Showers FREE
Strictly no day guests (UNAVAILABLE DUE TO COVID 19)
Covid Secure, Good to Go Visit England
Social distancing measures in place
20 pitches operating only due to COVID
Subject to availability we come round on an evening (6-7pm) with the following:
Fire pits (including a bag of fuel logs and firelighters) Only our fire pits & fuel logs to be used
Disposable BBQs
Charcoal
Bag of marshmallows with toasting sticks and more!
Mystical Fire - magic colour changing flames, fun for everyone!
Please note we do not have any disabled facilities onsite at the moment. We are happy to assist people with mobility problems, but due to the nature of the local landscape it is not advisable for those with serious mobility issues. Putting suitable accessible facilities in place is something we are working towards in the future. We welcome all to our site, so please get in touch if you need further information.
Please read the terms and conditions before booking and check the availability on the right hand side.
Clicking on BOOK NOW will take you to BEDS24 our secure booking system. By clicking book now you are confirming you have read all the information, COVID guidance and terms and conditions. All people must be pre-booked. Please make 1 booking per pitch you require.
Book now
Photo gallery
Photos open in a new window or tab